Football
Liverpool suffer big injury blow before FA Cup final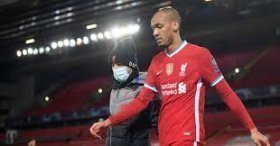 Liverpool have suffered a huge injury blow ahead of the FA Cup final against Chelsea this weekend.

The Reds are currently in Premier League action against Aston Villa where they have suffered an early setback with Fabinho's substitution.
The Brazilian was taken off with a hamstring injury, and now appears a massive doubt for the weekend's FA Cup final at Wembley Stadium.
The Merseyside giants recently dropped points against Tottenham Hotspur in the Premier League, and it appears their title pursuit has slipped away.
They still have plenty to play for with the FA Cup and Champions League finals, but the absence of Fabinho could be big blow in this period.
The former Monaco man has been the glue at the heart of the midfield. His tackles and quality distribution have been key to controlling games.
It remains to be seen whether he can make a surprise recovery for Sunday. Else, the club will be hoping that he can make the Champions League final.